Customer Documented Annual Cost Savings $25,000 per Application​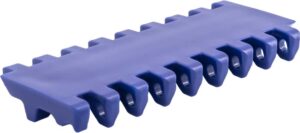 Frozen, breaded product drops directly onto the belt which was causing daily, drop-impact breakage and excessive wear to competitor's belt with scoop flights. Module repair required daily. Full belt replacement required monthly. Belting was at high risk of contributing to foreign material contamination.​
Customer installed Safari Belting's series 225 ULTRA-TUFF™ flat top belt with straight flights.​
Safari Belting ULTRA-TUFF™ belt installed in May 2019.  No broken modules. No issues. PROBLEM SOLVED!​
Worry-Free Conveyor Belting