Customer Documented Annual Cost Savings $5,250 per Application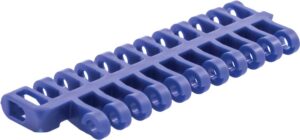 Large pans drop directly onto the conveyor belt causing frequent broken modules and down-time. Modules were replaced on a weekly basis and the full belt was replaced every 6 months.
Customer replaced competitor's flush grid, 1″ pitch, Polypropylene belt with Safari's Series 125 Flush Grid ULTRA-TUFF™ belt.​
Safari Belting ULTRA-TUFF™ belt was installed in July 2017. After 3 years in service, this belt is still running strong. There have been no broken modules and no performance issues. PROBLEM SOLVED!
Worry-Free Conveyor Belting