Customer Documented Annual Cost Savings $30,000 per Application​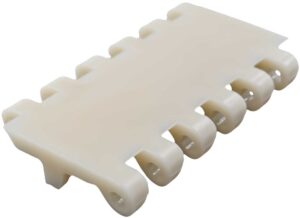 Large, bone-in product dropping onto one end of this long, wide application with frequent on/off transfers as the product was processed into smaller cuts resulted in weekly module & rod repairs and quarterly belt replacement. This application caused frequent foreign material contamination concerns.
Customer replaced competitor's heavy duty, 2.5" pitch belt with Safari's Series 250 ULTRA-TUFF™ belt.​
Safari Belting ULTRA-TUFF™ belt installed in January 2018.  It was replaced in January 2020 as preventative maintenance. During the 2-year service life, there were no broken modules and no performance issues. PROBLEM SOLVED!​
Worry-Free Conveyor Belting