Customer Documented Annual Cost Savings $15,000 per Application​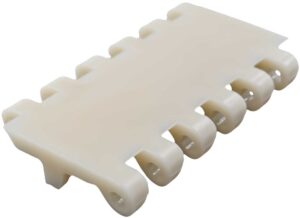 Omasum conveyance is a known problem area for beef processors due to the extremely abrasive nature of the product.  This customer was replacing the competitor's 2" pitch, acetal belt, on average, 3 times per month.​
Customer replaced competitor's 2" pitch belt with Safari Belting's more robust,  Series 250, Heavy-Duty 2.5" pitch ULTRA-TUFF™ belt.​
Safari Belting ULTRA-TUFF™ belt was installed in January 2020 and is still running in the application. The customer stated that even after 8 months, the belt shows very minimal wear. There have been no broken modules and no performance issues. PROBLEM SOLVED!​
Worry-Free Conveyor Belting