Customer Documented Annual Cost Savings $95,000 per Application​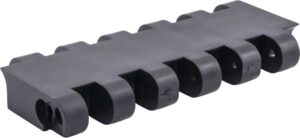 The customer was using a gravity roller design in this application, which presented risks to worker safety from pinch-point hazards and the ergonomics of maneuvering heavy hogs on the Shackle Table.  The competitor's belt had to be replaced every 2 months and was 37% higher in price than the Safari solution.​
Customer replaced competitor's gravity roller design with Safari's 2.5" pitch Series 1800 industrial duty belt.​
Safari Belting's solution improved worker safety while showing a consumption reduction cost savings of over $95,000 annually per application.​
Reduces Costs. Improves Worker Safety.​