Customer Documented Annual Cost Savings $650 per Application​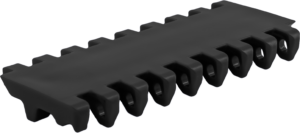 Bright Coop/Live Bird conveyor belts are some of the most critical belts in a poultry harvesting plant.  If these belts go down, production comes to a halt. The wear and tear of conveying live birds results in frequent belt repairs and replacement.​
Customer installed Safari Belting's Series 225 PE Black which is 100% compatible with the competitor's higher priced belting. The Safari 225 runs on the same sprockets as the competitor's belt which removed the customer's concern about converting to a new supplier and all associated conversion costs.
Customer realized instant cost savings due to Safari Belting's extremely competitive pricing and was able to reduce the risk of downtime by keeping adequate safety stock, on hand.​
Low Risk. Low Cost of Change.​