Customer Documented Annual Cost Savings $15,500 per Application​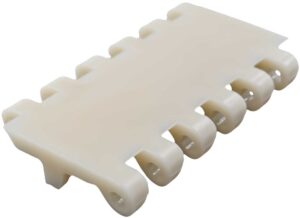 Heavy split hogs created loading issues on competitor's "Tough" belt which did not have the belt strength needed for operational consistency. Additionally, the competitor's belt's softer material was frequently damaged by contact with large, sharp bones as the hog was separated into the primal cuts. The result was frequent module repair and belt replacement on this critical application.​
Customer replaced competitor's 2" pitch "Tough" belt with Safari's more robust 2.5" pitch Series 250 ULTRA-TUFF™ belt.​
Safari Belting ULTRA-TUFF™ belt was installed in January 2018.  No broken modules. No issues. PROBLEM SOLVED!​
Worry-Free Conveyor Belting