Customer Documented Annual Cost Savings $30,000 per Application​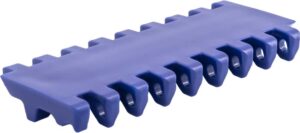 Continuous exposure to PAA and heavy loads was causing competitor's belt to fail. Full belt replacement was required every 2-3 weeks. Belting was at high risk of contributing to foreign material contamination.​
Customer installed Safari Belting's Series 225 ULTRA-TUFF™ flat top belt with straight flights.​
Safari Belting ULTRA-TUFF™ belt was installed in November 2019. After 10 months of operation, there have been no broken modules and no performance issues. PROBLEM SOLVED!
Worry-Free Conveyor Belting