Customer Documented Annual Cost Savings $5,200 per Application​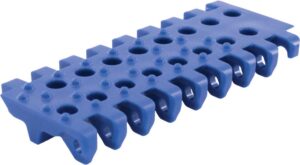 Continuous exposure to PAA caused severe degradation to both the wire and modular plastic belting the customer was using in these applications. The belts required frequent repairs and quarterly replacement. Belting in these applications was at high risk of contributing to foreign material contamination.
Customer installed Safari Belting's series 225 ULTRA-TUFF™ 11/32" Round-Hole, Dimple-Top belts, which were built with scoop flights specially fabricated with molded side indent for added strength in the edge modules.
Safari Belting ULTRA-TUFF™ belt was installed in January 2018.  No broken modules. No issues. PROBLEM SOLVED!​
Worry-Free Conveyor Belting