Customer Documented Annual Cost Savings $12,000 per Application​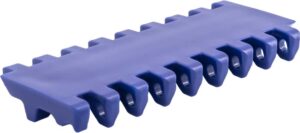 Wet, raw potatoes being conveyed up an incline, from washer to slicer, tumbled backwards causing daily broken flights and weekly belt replacement.​
Customer replaced competitor's heavy-duty, 2" pitch, Acetal belt with flights with Safari's Series 225 2" pitch ULTRA-TUFF™ belt with ULTRA-TUFF™ flights. ​
Safari Belting ULTRA-TUFF™ belt has been installed for 18 months. There have been no broken modules and no performance issues. PROBLEM SOLVED!​
Worry-Free Conveyor Belting